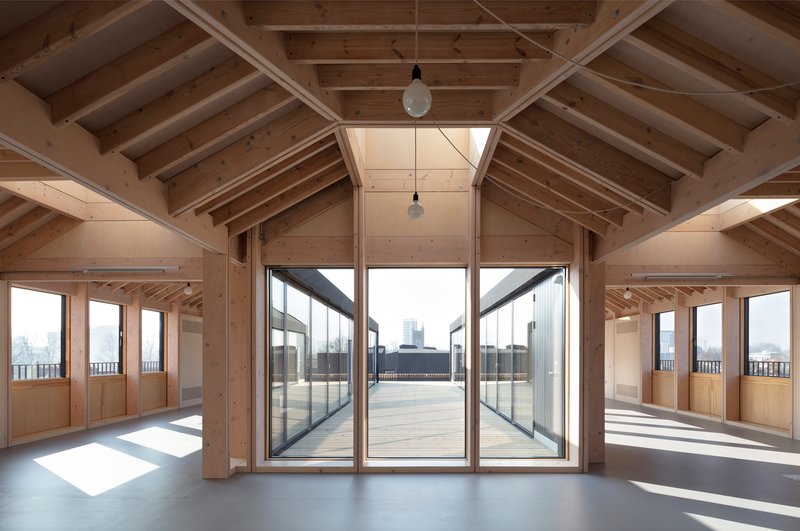 Participatory Environmentalism Through Palpable Sustainability
We have always believed in a palpable approach to sustainability. One that is understood by users and owners and where those constructing the building can understand why the design has been approached in a certain manner.
Our buildings often express simple things: a deck that shades; windows that open; materials like timber that are evidently low carbon. This literal approach de-mystifies sustainable technology, helping people to understand and actively participate in a building's environmental performance.
As the market and end users become more aware, these simple approaches become easier to enforce, with the pandemic adding to the desire to have connection to the outside, to have control over your local environment and perhaps to recognise that there may be compromises to be made.
This may manifest in external circulation or the physical manipulation of vents or windows and shading. But the idea of a building as a 'machine' that is complex and difficult to understand should become a thing of the past.
We design our buildings to be flexible and adaptable to change so that the inherent carbon can be seen as a future investment not a transitory deposit. We have already seen some of our buildings take on new uses with minimal carbon reinvestment.
We also look to build simply, facilitating ease of disassembly in the future.
Where we can, we also look to maximise the value of any existing structures and we have extensive experience of working with extant buildings, both as adaptive reuse and enhanced reuse. In these projects, we look to maximise the invested carbon through re-use while introducing new low carbon elements to achieve carbon negative schemes overall.
As part of the 'Architects Declare' movement Henley Halebrown have signed an open letter declaring a climate emergency.
Henley Halebrown fully support the principles of the proposed Building Regulations Part Z and the regulation of embodied carbon.
The office runs an Environmental Management System including assessing the carbon impact of the organisation. This is regularly reviewed at all practice management levels and externally audited to achieve ISO14001 accreditation.