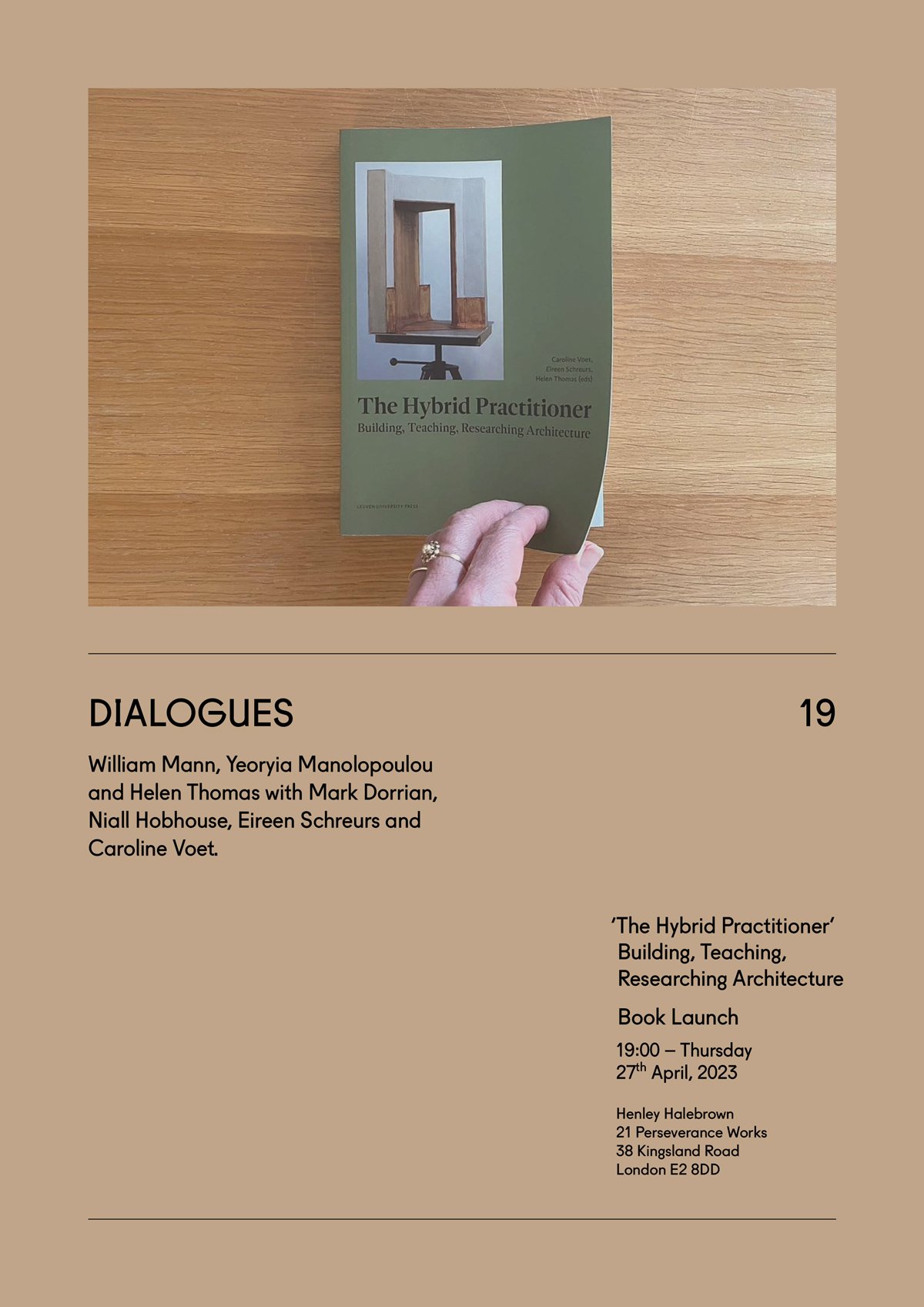 Dialogues 19 - The Hybrid Practitioner
April 2023
On Thursday 27 April, Henley Halebrown will host Dialogues 19 to launch "The Hybrid Practitioner" with William Mann, Yeoryia Manolopoulou and Helen Thomas alongside Mark Dorrian, Niall Hobhouse, Eireen Schreurs and Caroline Voet.
Architecture is a notoriously curious profession whose practice is difficult to pin down. Through investigating the fertile relationship between the cultural and scholarly production of academia and the process of designing and building in the material world, this international group of authors open up a fascinating array of possibilities for the active engagement of the hybrid practitioner with our present. 
The book proposes and examines different, interrelated roles for the architect and researcher from the reproductive activities of teaching, consulting and publishing, through the reflective activities of drawing and writing, to the practical intentions of building.
Editors: Caroline Voet is an architect (VOET architectuur) and Professor of Architecture and Design at KU Leuven. Eireen Schreurs is an architect, working at Delft University. Helen Thomas is an architect, writer and publisher at Women Writing Architecture and Drawing Matter. 
Respondents: Niall Hobhouse is director of Drawing Matter. William Mann is a director of Witherford Watson Mann Architects. Yeoryia Manolopoulou is Professor of Architecture and Experimental Practice at the Bartlett School of Architecture and a director of AY Architects. Mark Dorrian holds the Forbes Chair in Architecture at the University of Edinburgh. 
Contributing Authors: Joseph Bedford, Luis Burriel Bielza, Philip Christou, Elke Couchez, Thomas Coward, Jana Culek, Irina Davidovici, Rosamund Diamond, Christoph Grafe, Simon Henley, Julia Jamrozik, Sepideh Karami, Pauline Lefebvre, Birgitte Louise Hansen, Patrick Lynch, Sereh Mandias, Louis Mayes, Carlo Menon, Marjan Michels, Cathelijne Nuijsink, Paulo Providência, Sophia Psarra, Helen Thomas, Steven Schenk, Eireen Schreurs, Eva Storgaard, Caroline Voet, Wilfried Wang
Publisher: Leuven University Press
For further information about the book, please visit https://lup.be/products/177949.
The talk will be live streamed on Henley Halebrown's YouTube channel.