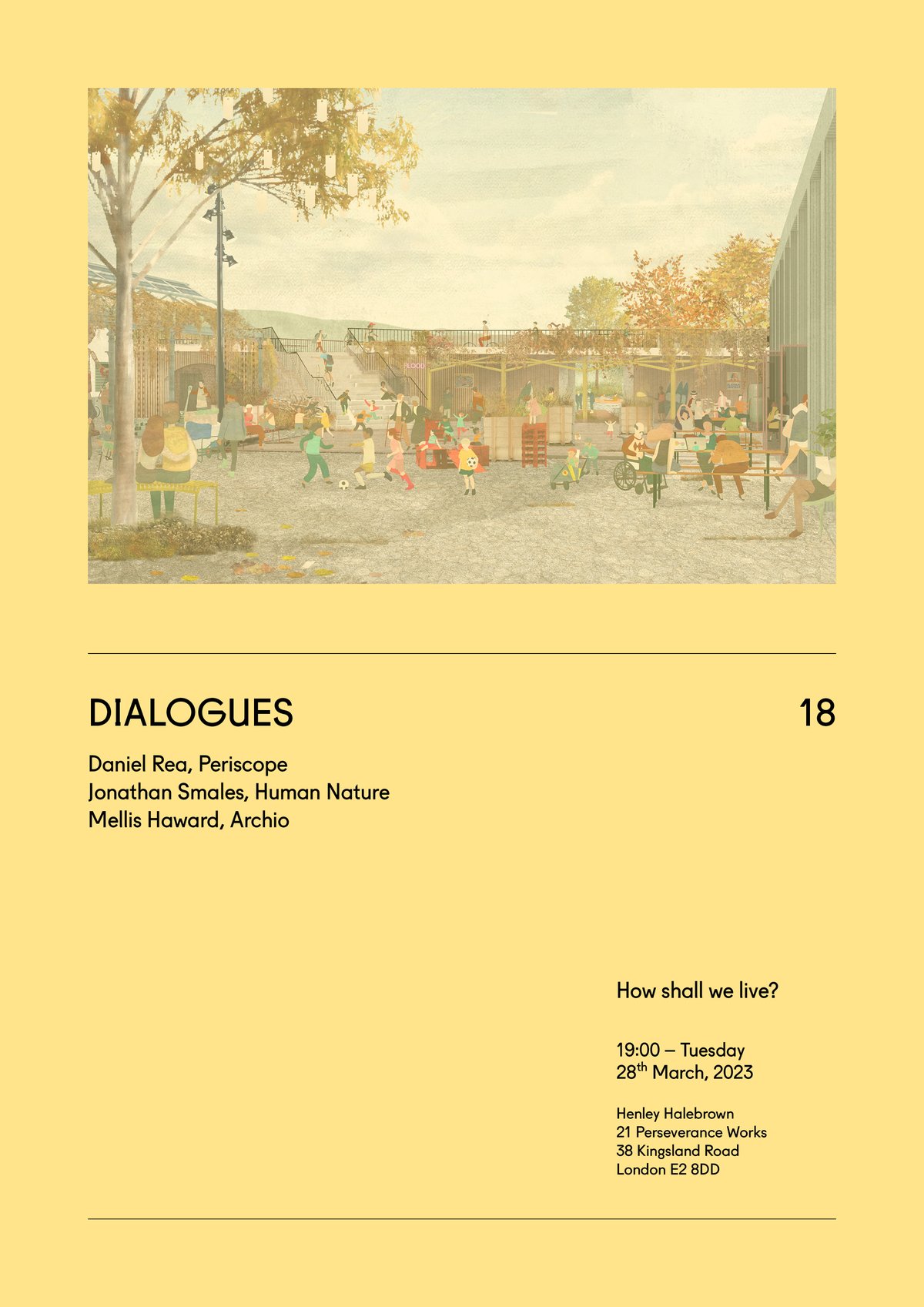 Dialogues 18 - The Phoenix
March 2023
On Tuesday 28 March, Henley Halebrown will host Dialogues 18 with Daniel Rea of Periscope, Jonathan Smales of Human Nature and Mellis Haward of Archio.
The talk will explore the subject 'How shall we live?'.
This talk will cover the motive forces, masterplanning process and timber building technologies behind The Phoenix, a new, exponentially sustainable neighbourhood in Lewes, East Sussex. 
The presented narratives will be used as a point of departure to provoke discussion over development in the UK, new models for living, new ways of building and how to impact the climate crisis at a neighbourhood scale.
Human Nature is designing and building the world's best sustainable developments which are regenerative for life, society, economy, nature and climate. Jonathan has worked in sustainable development for over 30 years, and is a recognised leader in sustainable design and urbanism. He will provide the client's view of The Phoenix. 
Periscope is a spatial design agency focused on regenerative design and public architecture. Daniel is a landscape architect, masterplanner and founding Director of Periscope, with over twenty years' experience in leading complex landscape, urban design and masterplanning projects across the UK, Europe and Asia. Daniel will explore the masterplanning of The Phoenix.  
Archio is an architecture practice who design homes, neighbourhoods and strategies for housing associations, local authorities, and community groups. Mellis is a Director at Archio, and has led many of the practice's housing and community projects. She will illustrate the co-design process ongoing at The Phoenix.   
The talk will be live streamed on Henley Halebrown's YouTube channel.